Building Fund

Loving Hands Children's Home is currently in the process of building a state of the art facility for which to provide care, comfort and a place to call home for our children. 
We operate solely on the contributions and donations of our caring community in addition to government funding. Please assist us in making a difference in the lives of children. Donate to our building fund. We can not make this happen or continue in providing outstanding client care without your support.
Projects Underway
Plans include expanding  & building our animal living quarters and barn sanctuary area. We have rescued many amazing animals that have grown to share their love and unconditional support with our Loving Hands Family and the children that we serve. They help to teach our children how to

 alleviate stress and repair trauma, promote relaxation, reduce aggression, relieve agitation and anxiety, encourage movement, socialization ,verbalization and trust.  We are excited to build out our Animal Sanctuary space.
We love sharing the story of one child in particular, that would come out and read books to our Therapy Pig (Ms. Minniehaha). This little guy was afraid, insecure and felt judged reading aloud with peers, but was able to relax and sit with Ms. Minnie and read with her for hours. He was able to foster a love of reading , build confidence and trust.

These magnificent animals really do wonders to help our children heal. We can't wait to complete a space dedicated to this kind of magic. 
Expansion of our Edible Forest. We plan to enlighten and empower youth by teaching our future leaders and community children the importance of healthier and natural food options, as well as how to live sustainably via urban agriculture without exhausting our resources. We strive to reach gardeners and would-be gardeners of all ages to work and connect alongside our organization. Volunteer Today! 
We plan on creating a  gray water system setup for our Edible Forest. We are always looking for innovative solutions to recycle and use less resources. Plants and flora need water to grow and flourish. Gray water systems are a wonderful way to make use of recycled water while helping our Edible Forest thrive. When we plant and expand our Edible Forest this is definitely one of the features that we'd like to utilize in becoming a more efficient and self sustaining facility.

In contributing to our cause, know that you are doing something INCREDIBLE! In supporting our work you'll be a beacon of hope for children facing trauma and uncertainty. Loving Hands Children's Home has a wonderfully supportive community. Your gifts and generosity help to ensure that the complex care and resources required to meet our childrens needs are available. As the old adage states, " It takes a village!"… Together we can ensure that life changing care,  a loving and serene home setting and therapeutic resources are available for every child that we serve.
Be the positive change for a child in need. Help us to build our new home. DONATE TODAY!
Please Help Us in Accomplishing Our Goals and Building Our Home!
Mentor Program / Youth Empowerment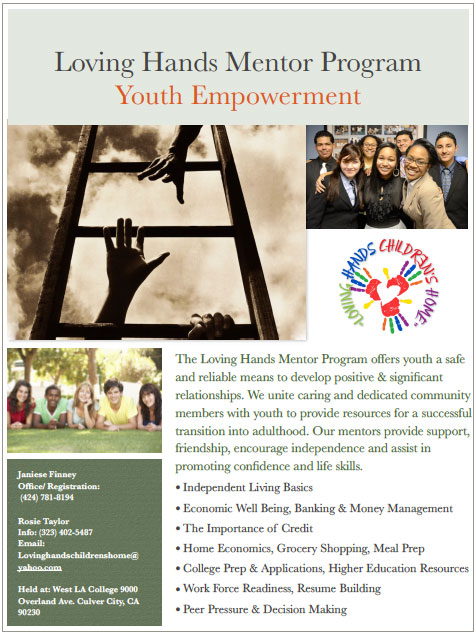 "Amazing young lady & organization with a great vision! Keep up the good work!" ~ W. Watters
"The Youth Empowerment Program teaches lessons that young adults need for life. Definitely appreciated!" ~ H. Smith
"I Love the activities and education provided for teens. We learn a lot and have a great time." ~ B. Louis
"This is SO needed! God bless you all! I hope this program is encouragement for others to follow suit!" ~ S. VanTobel
"I am now a young adult who took advantage of the Loving Hands Youth Empowerment Series. As someone who grew up in foster care, I had not previously been taught the importance of Credit or a Savings Account, How to complete a job application/ college application, and I am ashamed to say that I could not successfully do laundry without damaging my clothing and could not prepare a healthy meal! These are life skills that all youth need and I was able to acquire with Loving Hands Children's Home. I sincerely Thank You. This program series is an asset to youth."
~ D. Thompson